NdFeB Magnets in Different Shape
September 23 23:22:31, 2021
Model NO.: TC888
Shape: Cylinder
Grade: N42
Composition: NdFeB Magnet
Trademark: Helen Magnets
Specification: ISO9001, TS16949, SGS, ISO14001
HS Code: 85051110
Application: Speaker Magnet, Industrial Magnet, Solenoid, Motor Magnet
Coating: Zinc
Type: Permanent Magnet
Performance: Strongest
Transport Package: Carton
Origin: China
---------------------------

1.Our Sintered Neodymium-Iron-Boron permanent magnets , with competive prices ,on-time delivery and excellent quality ,makes us outstanding in the magnet manufacture industry .

2.About 280 workers, 38700 workshop, 16 years experience,TS16949 and ISO9001/14001 certificated, this is how we keep good quality and competitive prices for global valued customers.

3.Special magnets with low weight loss(After HAST 168hours ,less than 3mg/cm2) ,and low temperature coeffient ,are our technology innovation.

----------- -------------------

Cylinder magnets,

Neodymium-iron-boron magnet is one kind of the permanent magnets.

Material Grade of NdFeB magnets:

Magnet N-( N35, N38, N40, N42, N45, N48, N50),

Magnet M-(35M, 38M, 40M, 42M, 45M, 48M),

Magnet H-(35H, 38H, 40H, 42H, 45H),

Magnet SH-(30SH, 33SH, 35SH, 38SH, 40SH, 42SH),

Magnet UH-( 28UH, 30UH, 33UH, 35UH, 38UH),

Magnet EH-(28EH, 30EH, 30EH, 33EH, 35EH)

1) Application of NdFeB magnet:Toys, package, Printer, Switchboard, Phone, voice coil motors (VCM's) in hard disk drives, high performance motors, brushless DC motors, magnetic separation, magnetic resonance imaging, sensors, loudspeakers etc.

2) The coating of NdFeB magnets can be Zn, Ni, Ni-Cu-Ni, Epoxy, CR3+ZN, NI+AG, NI+AU.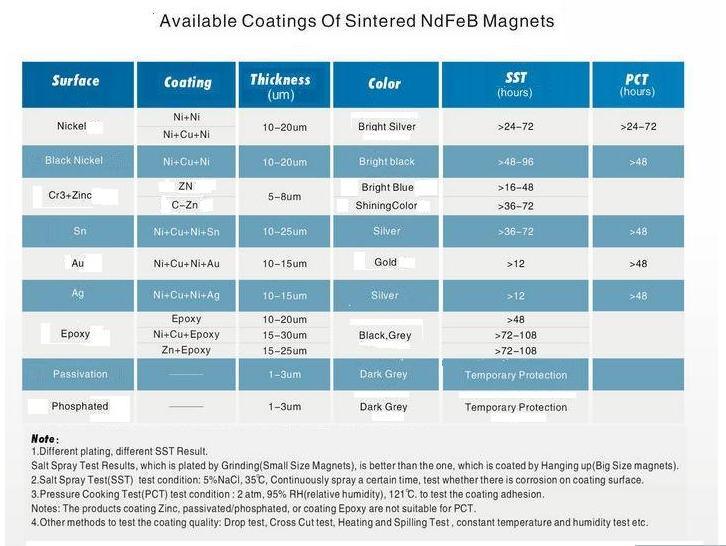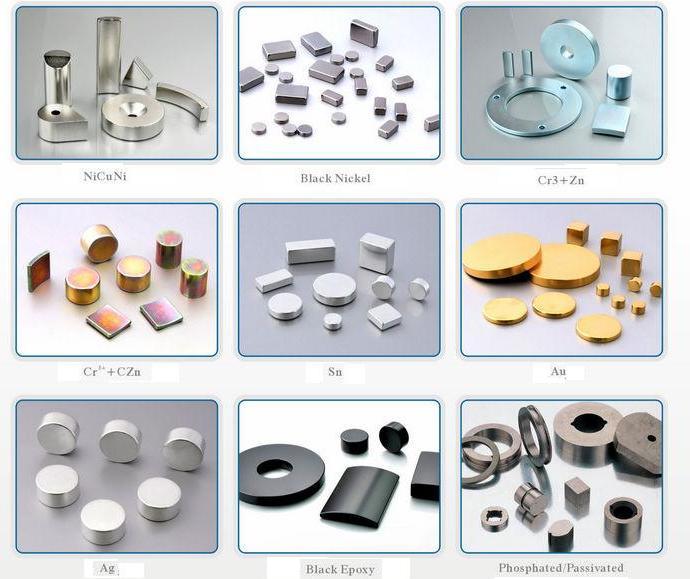 3) Our factory can also manufacture various sizes of NdFeB magnet, according to the customer's specification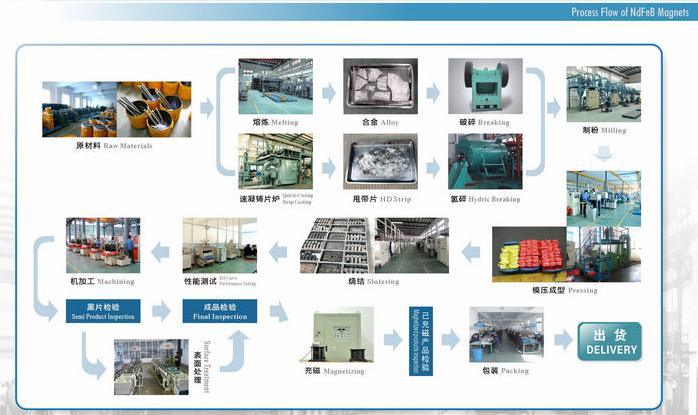 Magnetic properties of Sintered NdFeB magnets:
Grade
Remanence
Coercive Force
Intrinsic Coercive Force
Max. energy product
Max.
Operating
Temperature
Br
Hcb
Hcj
(BH )
Tw
max  
mT
kA/m
kA/m
kJ/m3
(kGs)
(kOe)
(kOe)
(MGOe)
N35
1170-1220
>= 868
>=955
263-287
80 C
(11.7-12.2)
( >= 10.9)
( >= 12)
(33-36)
N38
1220-1250
>=899
>=955
287-310
80 C
(12.2-12.5)
( >= 11.3)
( >= 12)
(36-39)
N40
1250-1280
>= 907
>=955
302-326
80 C
(12.5-12.8)
( >= 11.4)
( >= 12)
(38-41)
N42
1280-1320
>= 915
>=955
318-342
80 C
(12.8-13.2)
( >= 11.5)
( >= 12)
(40-43)
N45
1320-1380
>= 923
>=955
342-366
80 C
(13.2-13.8)
( >= 11.6)
( >= 12)
(43-46)
N48
1380-1420
>= 923
>=955
366-390
80 C
(13.8-14.2)
( >=11.6)
( >= 12)
(46-49)
N50
1400-1450
>= 796
>=955
382-406
80 C
(14.0-14.5)
( >= 10.0)
( >= 12)
(48-51)
N52
1430-1480
>= 796
>=955
398-422
80 C
(14.3-14.8)
( >= 10.0)
( >= 12)
(50-53)
33M
1130-1170
>= 836
>= 1114
247-263
100 C
(11.3-11.7) Â 
(>= 10.5)
( >= 14)
(31-33)
35M
1170-1220
>= 868
>= 1114
263-287
100 C
(11.7-12.2)
( >= 10.9)
( >= 14) Â 
(33-36)
38M
1220-1250
>= 899
>= 1114
287-310
100 C
(12.2-12.5)
( >= 11.3)
( >= 14)
(36-39)
40M
1250-1280
>= 923
>= 1114
302-326
100 C
(12.5-12.8)
( >= 11.6)
( >= 14)
(38-41)
42M
1280-1320
>= 955 Â 
>= 1114 Â 
318-342 Â 
100 C
(12.8-13.2)
( >= 12.0)
( >= 14)
(40-43)
45M
1320-1380
>= 995
>= 1114
342-366
100 C
(13.2-13.8)
( >= 12.5)
( >= 14)
(43-46)
48M
1360-1430
>= 1027
>= 1114
366-390
100 C
(13.6-14.3)
( >= 12.9)
( >= 14)
(46-49)
50M
1400-1450
>= 1033
>= 1114
382-406
100 C
(14.0-14.5)
( >= 13.0)
( >= 14)
(48-51)
35H
1170-1220
>= 868
>= 1353
263-287
120 C
(11.7-12.2)
( >= 10.9)
( >= 17)
(33-36)
38H
1220-1250
>= 899
>= 1353
287-310
120 C
(12.2-12.5)
( >= 11.3)
( >= 17)
(36-39)
40H
1250-1280
>= 923
>= 1353
302-326
120 C
(12.5-12.8)
( >= 11.6)
( >= 17)
(38-41)
42H
1280-1320
>= 955
>= 1353
318-342
120 C
(12.8-13.2)
( >= 12.0)
( >= 17)
(40-43)
45H
1320-1360
>= 963
>= 1353
326-358
120 C
(13.2-13.6)
( >= 12.1)
( >= 17)
(43-46)
48H
1370-1430
>= 995
>= 1353
366-390
120 C
(13.7-14.3)
( >= 12.5)
( >= 17)
(46-49)
35SH
1170-1220
>= 876
>= 1592
263-287
150 C
(11.7-12.2)
( >= 11.0)
( >= 20)
(33-36)
38SH
1220-1250
>= 907
>= 1592
287-310
150 C
(12.2-12.5)
( >= 11.4)
( >= 20)
(36-39)
40SH
1240-1280
>= 939
>= 1592
302-326
150 C
(12.5-12.8)
( >= 11.8)
( >= 20)
(38-41)
42SH
1280-1320
>= 987
>= 1592
318-342
150 C
(12.8-13.2)
( >= 12.4)
( >= 20)
(40-43)
45SH
1320-1380
>= 1003
>= 1592
342-366
150 C
(13.2-13.8)
( >= 12.6)
( >= 20)
(43-46)
28UH
1020-1080
>= 764
>= 1990
207-231
180 C
(10.2-10.8)
( >= 9.6)
( >= 25)
(26-29)
30UH
1080-1130
>= 812
>= 1990
223-247
180 C
(10.8-11.3)
( >= 10.2)
( >= 25)
(28-31)
33UH
1130-1170
>= 852
>= 1990
247-271
180 C
(11.3-11.7)
( >= 10.7)
( >= 25)
(31-34)
35UH
1180-1220
>= 860
>= 1990
263-287
180 C
(11.8-12.2)
( >= 10.8)
( >= 25)
(33-36)
38UH
1220-1250
>= 876
>= 1990
287-310
180 C
(12.2-12.5)
( >= 11.0)
( >= 25)
(36-39)
40UH
1240-1280
>= 899
>= 1990
302-326
180 C
(12.5-12.8)
( >=11.3)
( >= 25)
(38-41)
28EH
1040-1090
>= 780
>= 2388
207-231
200 C
(10.4-10.9)
( >= 9.8)
( >= 30)
(26-29)
30EH
1080-1130
>= 812
>= 2388
223-247
200 C
(10.8-11.3)
( >= 10.2)
( >= 30)
(28-31)
33EH
1130-1170
>= 876
>= 2388
247-271
200 C
(11.3-11.7)
( >= 10.5)
( >= 30)
(31-34)
35EH
1170-1220
>= 876
>= 2388
263-287
200 C
(11.7-12.2)
( >= 11.0)
( >= 30)
(33-36)
38EH
1220-1250
>= 899
>= 2388
287-310
200 C
(12.2-12.5)
( >= 11.3)
( >= 30)
(36-39)
28AH
1040-1090
>=787
>= 2624
207-231
230 C
(10.4-10.9)
( >= 9.9)
( >= 33)
(26-29)
30AH
(26-29)
>=819
>= 2624
223-247
230 C
(10.8-11.3)
( >= 10.3)
( >= 33)
(28-31)
33AH
1130-1170
>= 843
>= 2624
247-271
230 C
(11.3-11.7)
(>= 10.6)
( >= 33)
(31-34)
Finger Joint Board, also known as integrated board, is a woodworking joint made by cutting a set of complementary wood pieces, to form long pieces of lumber from solid boards, the result is finger-jointed lumber. It is stronger then a butt joint or lap joint.

Luli Group Co., Ltd, is a professional manufacturer in wood panel products with rich experience. We are able to supply customers' requirements in panel products in various sizes and specifications with good quality.

The utility model of Finger joint board has the advantages because the connection of the solid wood joint is less, and the amount of rubber used is less, so it`s environment friendly.

It is easy to process, cutting and shaping.

The finger joint board can be very useful with fixing tables and chairs, also can be used high-end furniture making, wall panels, interior decoration and so on.

The details of Finger joint board:

Size: 1220mm x 2440mm(Standard size) or customize

Thickness: From 6mm to 30mm or according to request

Density: 480kg – 550kg/m3

Materials: Chile pine, Radiant pine, Mongolian scotch, White pine

Glue: E0, E1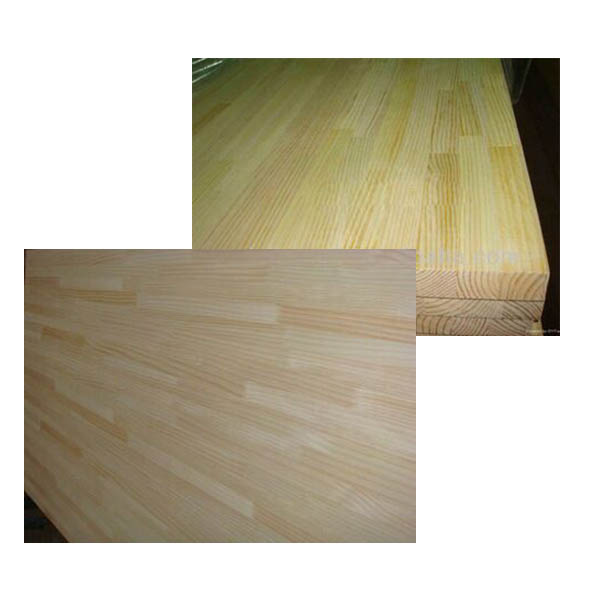 Finger Joint Board,Wood Finger Joint Board,Finger Joint Lumber Board,Finger Joint Laminated Board

Luli Group Co.,Ltd. , https://www.cnluli.com